Fresh on the back of a defeat at Stoke and Pardew's 10th loss in 14 Premier League games, Sky paraded a table showing the points tally of Premier League teams in the calendar year (excluding teams who have not participated in both the 2013/14 and 2014/15 seasons).
Newcastle, of course, generously propped up the 16 other eligible teams above them.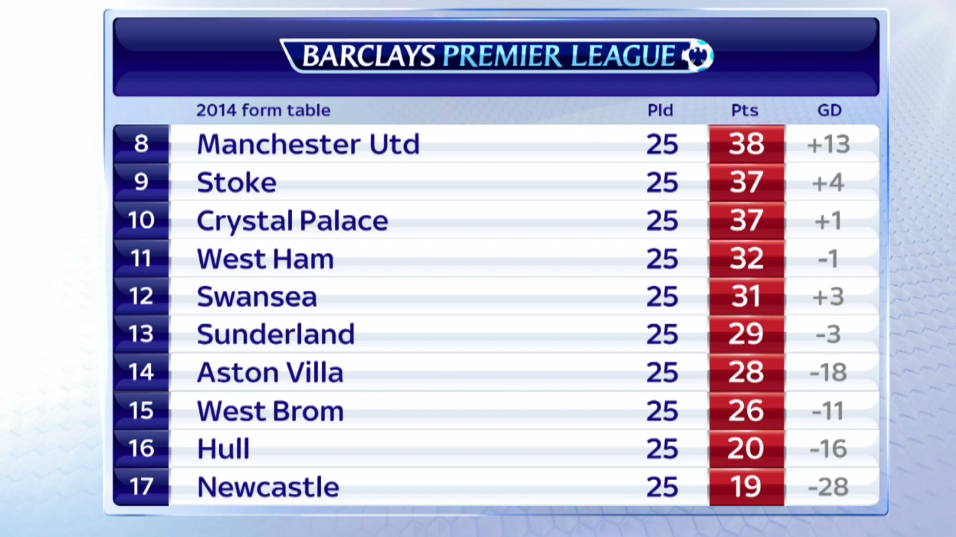 2014 Premier League table (excluding teams who have not participated in both 2013/14 and 2014/15 seasons)
Media speculation the day after Pardew's latest touring horror show inevitably and predictably ended the same way as it always does – with leaked murmurs from the club of reassurances that his job is safe.
Whilst the footballing old boys' who occupy punditry and journalist seats will never turn on their own, to prevent any awkwardness should they one day cross paths on a Match of the Day sofa or out of sheer cowardice as you prefer, the increasingly overwhelming catalogue of evidence against Alan Pardew will not shirk from the truth out of some sense of misplaced footballing nepotism.
The incontrovertible truth that is apparent to all but the willfully blind, biased and sycophantically diplomatic; Alan Pardew does not deserve to be the manager of Newcastle United.
Does he get results?
No.
Does he get performances?
No.
Is he a good man manager?
No.
Is he tactically astute?
No.
Is he an honest professional?
No.
Is he at least likeable?
Don't be silly.
How does this story end then?
Mike Ashley, for all his lack of footballing knowledge, cannot at this point be oblivious to Pardew's inability to extract Premiership points from this squad. What he requires of Pardew will be markedly lower than what even the fractured Newcastle fan base require, of course – quite simply, he desires to collect Premier League TV revenue streams with the lowest expenditure possible with the rest falling into the category of peripheral guff.
Pardew does not seem on course to satisfy even this lowly ambition however, despite the club financing him during the summer transfer window, and, even if you believe the outlay wasn't big enough, teams who began the summer window with weaker squads and spent less money look like better outfits than Newcastle. West Brom and Leicester City look formiddable by comparison. Teams who can be managed to be more than the sum of their parts are frightening and mysterious concepts in Newcastle sadly.
Pardew will not walk while he enjoys the lukewarm support or apathy from the St James' Park crowd.
A hard-nosed businessman like Ashley, however, will know that the compensation of one-year's salary which Pardew will be due for the termination of his paltry services will be significantly less to shell out than the money he will lose if he sticks with Pardew and the club sinks to the Championship for a second time.
The season is only six games old though and though Ashley may gamble a while longer, he's lost this gamble before, and a quick glance down the tracks at Newcastle's December fixtures tell you Ashley will get hit by the train of relegation again if he keeps acting with his heart and protecting his friend, who serves him obediently enough, Pardew.
In the January transfer window of 2013, Ashley had to spend approximately £30m to offset Pardew's poor professional abilities.
Their aims, not aligned with those of a Newcastle United fan, have been largely successful historically though in that they've enjoyed success together in keeping the club in the league, avoiding low-revenue cup tournaments and reducing expenditure with the occasional transfer fee bonus such as the sales of Andy Carroll and Yohan Cabaye. Mike Ashley could gain more assurance that the club would stay in the league for cheaper however (with no repeats of January 2013 necessary), and the more the season unfolds and Newcastle remain in danger, the more he will have to look at ensuring Newcastle's season doesn't end with a costly whimper.